Arrowtown Home
Cedar and coloursteel combine for a timeless exterior finish. This classic look is understated yet reflects a home that is built to last. The use of large stacking doors makes an impact in the living area, with polished concrete floors and high-quality bathroom fit out giving a clean and contemporary look. Cedar and coloursteel combine for a timeless exterior finish.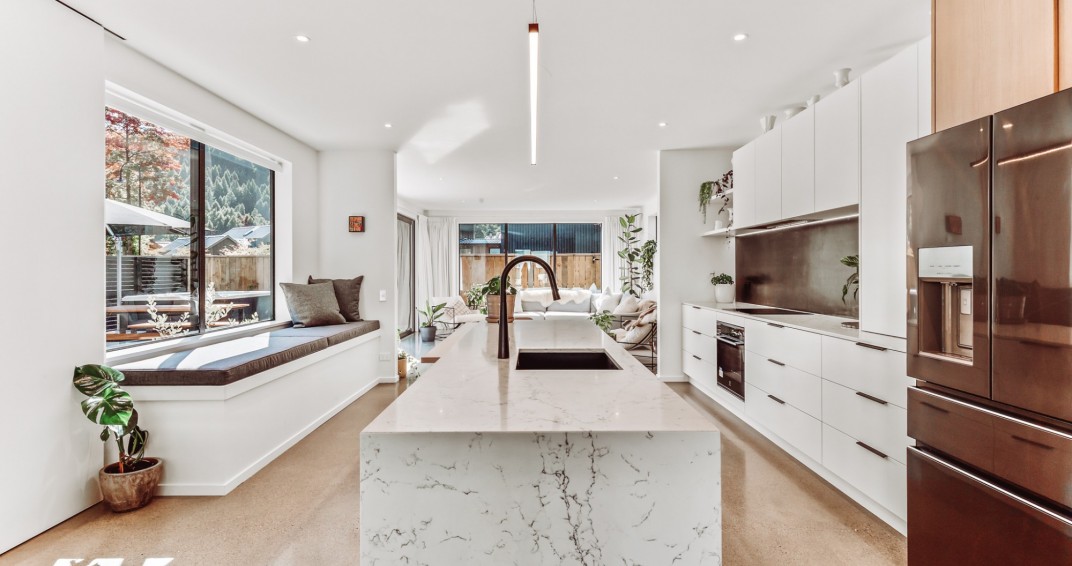 Process & Services
Working with a smaller section, the challenge was to create a family home with plenty of living space without maxing out the land. We worked with the client to create a two-storey floor plan which would give plenty of space and provide multiple living areas. The design also allowed for an adjoining flat.
The two-storey solution also gave the family plenty of room for outdoor living and entertaining, which was on their must-have list. The next challenge was maximising sunlight into the house while keeping some of the outdoor areas sunny. We worked through a plan to position the house in a way that would allow for all-important sunshine and privacy. The end result is a home that not only looks impressive but delivers plenty of impressive features for comfortable modern family living.
Purposeful Features & Innovations
Affordable luxury
Style was important to the homeowner as was being smart with finances. Expensive cedar paired with lower cost coloursteel cladding and using the right colour combination achieved a luxurious and affordable look.
Born entertainers
Our clients are social with young children so creating a nice indoor-outdoor space for them and guests to enjoy was paramount. We created a flush threshold concrete patio with no step which is nice to walk from indoor to outdoor. We inserted a strip drain to ensure the area wouldn't puddle. The maintenance is low in comparison to a wooden deck.
A beautiful large 3 door slider allowed for more light and a flush indoor/outdoor flow.
A feature entrance
We created a Cedar sofit to sit proudly over a beautiful entry comprised of a black plasma door with large sidelight window and over head window to increase entry light and show off entry pendant.
Lovers of light & space
Our client enjoys spending time at home and so a light and spacious atmosphere was high on the list. We created high ceilings to develop a spacious feel without extending the dimensions of the house and impacting on the yard space. We introduced full height windows (ceiling to floor) to maximise light transfer. These full height windows are continued through into bedrooms and bathrooms.
Style & practicality
We introduced a steel splash black in the kitchen which is affordable, stylish and easy to clean.
Complementary to the interior style
In the kids room with utilised the natural aesthetics of the ply wood wall to become a defining feature. This complemented the clients rustic interior design style.
Gallery
Connect
How can we help?
Contacts
Follow us