Cedar & Oak House
Cedar and plaster cladding gives an Aspen-inspired design style; engineered oak carries the look throughout the interior. Full height glazing features in the main living areas to flood the space with light and provide views of the walnut trees and garden.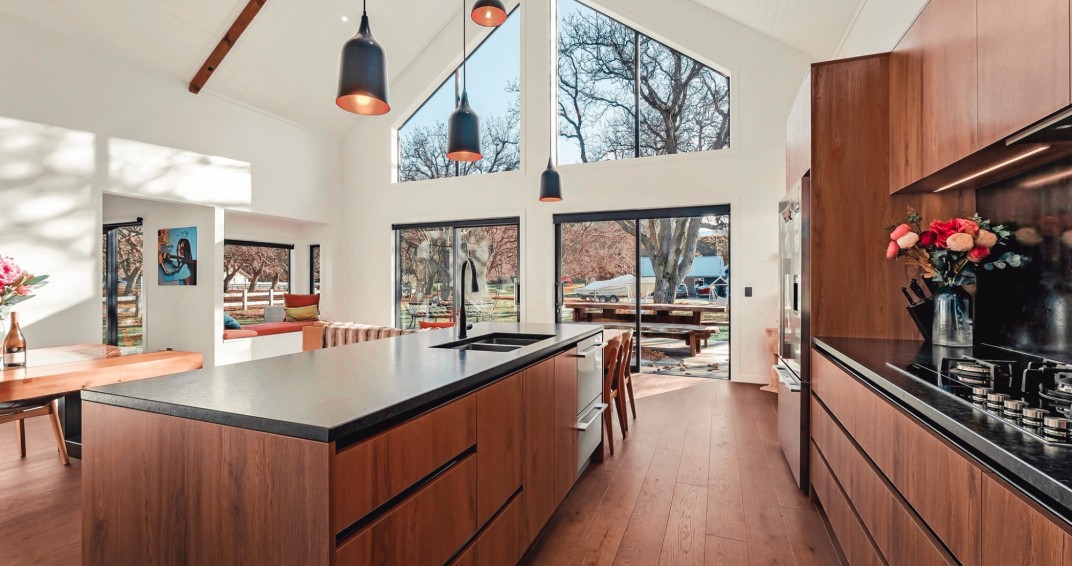 Process & Services
Our client wanted to maximise sun and privacy to get the most from their picturesque section amongst the walnut trees in Lake Hayes Estate. Working with the designer from the beginning of the project, we determined the best position for the home to ensure sun would hit outdoor areas and north-facing living areas while still providing privacy.
As well as sunshine and privacy, the other big need for this family of three was creating beautiful living spaces. What began as a basic design concept evolved into a more thoughtfully designed and architectural finished product after listening to how they wanted to live in their home. Some further development of the plans gave them some purposefully designed features as well as increasing the value of the property.
Purposeful Features & Innovations
Busy family bench top
Granite: hard wearing, chemical-resistant, hot pan ready, stylish.
Work from home tuck
A dedicated room for a home office was too much. We created a 'tuck' just before the main bedroom by extending the stairwell platform out. The resulting mezzanine office utilises dead space. Most importantly, while the homeowner is working, they enjoy the warmth of heat rising in the home and looking out to views of the landscape.
Spending time indoors in a non-drying heat
We installed slim diesel-powered radiators for the family to enjoy non-drying, low running cost, centrally-heated, warmth. The subtle slim-line design merges with the walls for a discrete finish.
Entertaining guests frequently
We connected prep and entertaining areas to create a functional showpiece.
High ceilings & stacked windows for maximum light entry and a grand appeal.
Away from sleep areas; open-plan connection of kitchen to dining to outdoor entertaining.
A beautiful functional finish with robust granite bench top and oak-veneer joinery.
Meditation space
As a busy working family, the homeowner wanted a dedicated chill-out nook from which to read, admire the view and nap. Also a great space to keep an eye on the kids while they play outside in the yard.
In-house sanctury to decompress daily
We created a day-spa inspired bathroom experience.
Lighting effects and relaxing rainfall head, in shower enclosure.
Bath & window well positioned to soak in a prime view.
A day-spa inspired finish with warm and cool Italian tile work.
The terracota tile work is fantastic at disguising dirt whilst still having
an easy-to-clean finish. As is the grey tiling.
Separate adult-friendly and kid-friendly spaces
We created a media room with addition of external sliding door for indoor-outdoor flow, generous clear walls to allow for large L-Seater couch and
TV mount, separate from main entertaining area to allow noise separation.
Abundant storage without impacting living spaces
We created hidden storage cupboards accessed from behind headboard.
Maximising light entry
In spaces which don't see the sun, we used skylights to create additional light entry. Complete with black-out remote controlled blinds to cater for sleeping in or heading to bed early.
Gallery
Connect
How can we help?
Contacts
Follow us